Malala addresses the World at the U.N.
Most teenagers have elaborate plans for their 'Sweet Sixteen', such a special outfit and a large gathering surrounded by their friends and family. Pakistani Malala Yousafzai went a step further and decided to share this milestone with the world. This Friday Malala took the podium at the United Nations headquarters in New York to endorse 'Right to Education' for all children. U.N. Secretary-General Ban Ki-Moon dubbed the day #MalalaDay in efforts to highlight the renewed push for improving global access to education via the
Global Education First Initiative
.
Malala has come a long way since that fateful day on October 9th, 2012 when members of the Taliban targeted a school bus full of girls in Swat Valley. Her presence is a nothing short of a miracle, as she sustained massive injuries to her brain and upper back and underwent rehabilitation for months.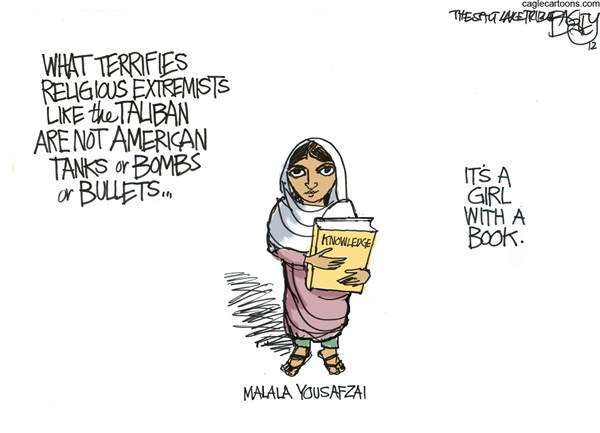 Malala had been a top student long before the World knew of her passion for education and had been active in debates in her local school circuit. Malala's father, a school teacher, was approached by BBC Urdu in 2009. They needed a woman willing to write about living in Swat as the Taliban attempted to gain control of the valley. Since an earlier volunteer backed out from the risky endeavor, the then 7th grader Malala assumed the pen name of 'Gul Makai' or 'Corn Flower' and began blogging on the website. Her posts shared insight into life in a increasingly complex security situation, as national forces battled the terrorist outfits in the nearby mountainside. She participated in numerous talk shows to highlight the illegal ban on girls education placed by the terrorist overlords. Malala's identity as the BBC blogger was eventually revealed and she openly campaigned for the protection of girls education in her home region. In the middle of sparking much-needed debate on the state of education, Malala also drew unwanted attention in her direction, by making enemies in the terror outfit. Despite receiving numerous death threats, Malala continued to advocate for her basic right for Education, one that is promised by the National Constitution of Pakistan as well as in the religion of Islam.
Vigil in Pakistan for Malala's Recovery
Pakistani Women Protesting the Attack on the School Girls
Following the unsuccessful assassination attempt, a group of Islamic Scholars issued a statement denouncing the Taliban's attempt to religiously substantiate the horrendous attack on the school girls. As Pakistan's Ambassador to the United Nations, Masood Khan, stated earlier this year, " Those who deny women and girls their right to education violate Islam."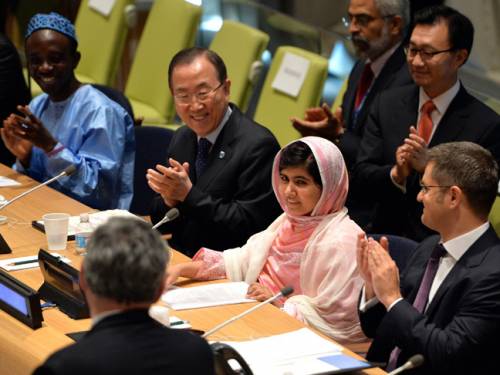 Now, unfazed, Malala continues to advocate education as a right for each girl, and boy.

Here are some quotes from her speech:
Dear brothers and sisters, do remember one thing. Malala day is not my day. Today is the day of every woman, every boy and every girl who have raised their voice for their rights. There are hundreds of human rights activists and social workers who are not only speaking for human rights, but who are struggling to achieve their goals of education, peace and equality. Thousands of people have been killed by the terrorists and millions have been injured. I am just one of them.
Honourable Secretary General, peace is necessary for education. In many parts of the world especially Pakistan and Afghanistan; terrorism, wars and conflicts stop children to go to their schools. We are really tired of these wars. Women and children are suffering in many parts of the world in many ways. In India, innocent and poor children are victims of child labour. Many schools have been destroyed in Nigeria. People in Afghanistan have been affected by the hurdles of extremism for decades. Young girls have to do domestic child labour and are forced to get married at early age. Poverty, ignorance, injustice, racism and the deprivation of basic rights are the main problems faced by both men and women.